Overview

Data Flow

Why Choose Xportmydata

Getting Started

FAQs

Tutorials
Overview
Take control of your data files
Data is stored in the cloud, if the unthinkable happens, how do you get access to your files? Xportmydata takes away the stress and anxiety, you have control of your data and you can choose where your data is saved.Xportmydata provides you an easy way to backup your data and files to your computer, sync with your favorite cloud storage or on our servers.
Data Flow
Understand the movement of files between Xportmydata and Xero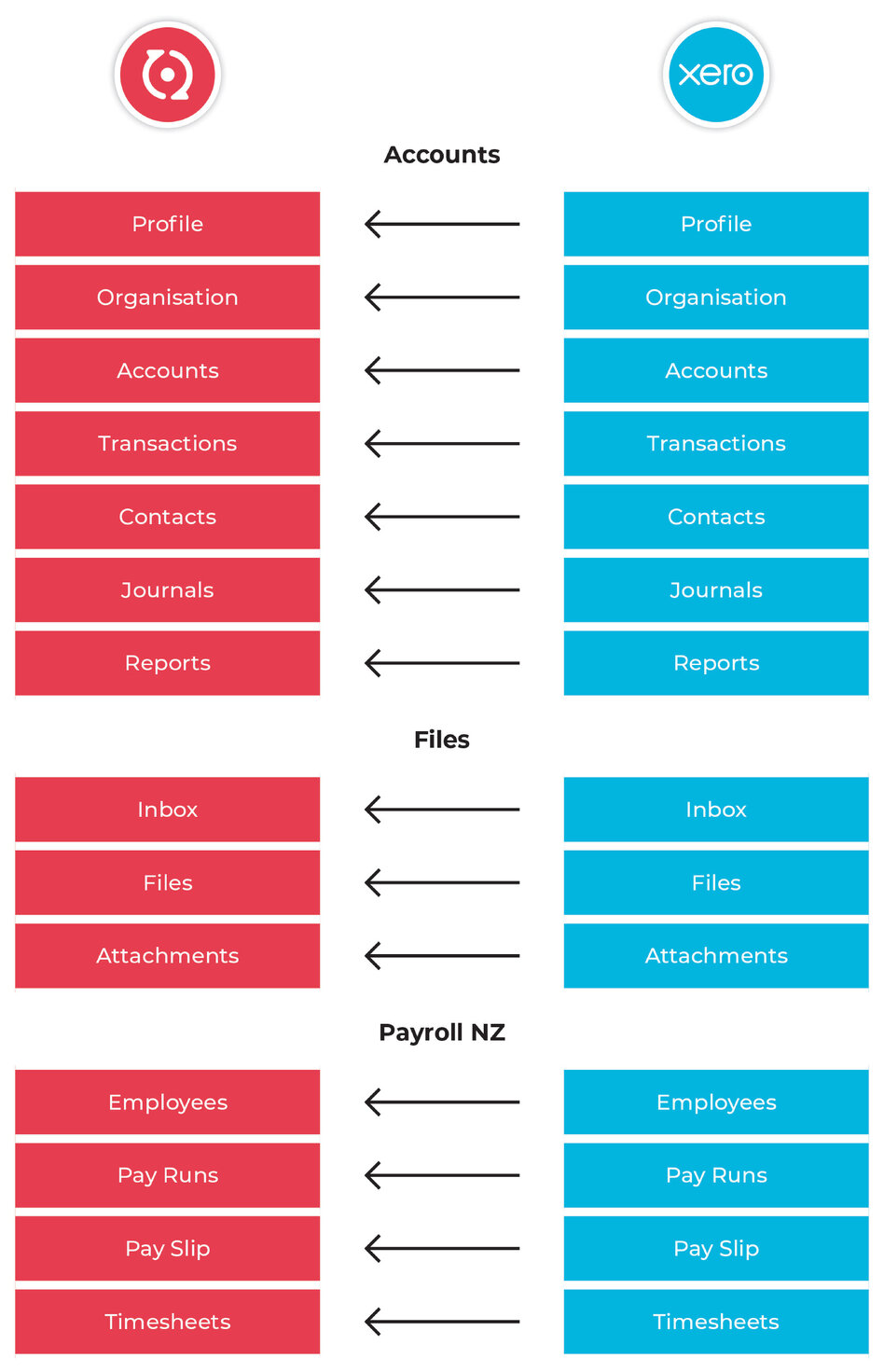 Why choose Xportmydata?
The ultimate in peace of mind
The best insurance you can have against data loss is a great backup system that gives you immediate access to your backed up data. Xportmydata can save you from all the stress, lost time and financial cost of:

Accidental Deletions & Accounting MistakesAccidents do happen! When they do, if you don't have a backup to compare with, you can lose time and money while you or your accountant try to find and correct the problem.
Cyber Threats (Phishing and Ransomware)Cybercriminals are always creating new ways to trick people into revealing login details and, if they gain access, your data is at risk of being encrypted or deleted.
Malicious StaffAs business owners, we don't want to think about it, but what if an employee intentionally deleted invoices from Xero prior to resigning? Trying to recover information, if you don't have a backup in place, takes time along with the stress of not knowing exactly what was deleted.
Hassle-free, set & forget solution
Getting started with Xportmydata is easy. Simply sign up using your Xero login details, choose your plan and select the Xero data, files and (NZ) payroll you want to back up. From there, your backups will automatically back up monthly on the same date (for the Starter & Standard Plans) or weekly (for the Ultimate Plan). Xportmydata plans start from only $10/month and are literally "set & forget", how easy is that!
You control your data
While Xero provides a fantastic accounting platform; your data is your responsibility. In fact, Xero recommends you regularly perform your own backups. This makes choosing the best backup solution so important. Xportmydata puts you in control of your Xero data so you have immediate access whenever and wherever you need. With Xportmydata, your data is stored on our encrypted hard drives. You can download your data to the place of your choice and, if you are worried about having all your data online, simply download a copy "offline" to your local device. Are you keen to make the most of the many new add-ons and apps now available, but want to try before you buy the new add-on? Simply use a downloaded copy of your latest backup, so you can test the add-on on real data, without affecting your 'live' accounting data.
Retain your records – even after your business is sold
If you sell or close down a business, most countries' tax laws require you to hold a copy of all your financial records for a certain period of time. Having an XportMyData backup of your complete Xero records is the smart way to retain all your relevant financial information in the event of a tax audit.
Getting Started
An Introduction
Watch the following video for help on how to get started and set up your backups
Xportmydata Frequently Asked Questions
Learn more by choosing your question
What type of backup does Xportmydata create?
Our Solo, Plus & Pro plans create a "full backup" each time your backup is run:
Accounting Data - full export of all your accounting history from when you first started with Xero exported into excel. Named attachments are recorded against the transactions for quick file reference.
Files/invoices - all your saved invoices, PDFs, image files etc. you have uploaded and attached to Xero. The files are exported in the same format you added to Xero.
NZ Payroll - full export of your payroll history.
What does "files" backup include?
All your scanned invoices, receipts and images. Exported in the same format as added into Xero.
Why do I need to back up if Xero does it?
Xero provides a fantastic accounting platform that's full of features. While Xero provides the accounting platform, your data is your responsibility. There isn't a one-step feature to copy all of an organisation's data out of Xero, instead you export data from individual areas of Xero and reports from the reports screen. This is where Xportmydata comes in - Xportmydata can back up and download all your Xero data, files and (NZ) payroll.
Where are my backups stored?
Xportmydata's servers are hosted in South East Australia Microsoft's datacentres. Your data is stored on our encrypted hard drives and is backed up daily. If you are in a region where you need to maintain data sovereignty, the backup can be downloaded to your local device and securely stored within your region. Downloaded backups can then be removed from our servers.
Can I trial Xportmydata?
Try our Solo Plan's free 7-Day Trial and see how the Xportmydata backup process works. Please note you are restricted from downloading the full data.
Once I have signed up with Xportmydata, how do I get started?
Once logged in using your Xero login, XportMyData will prompt you to allow access to your Xero organisation. You can access additional organisations by selecting the dropdown each time you login in. Once your organisations have been selected, click continue to be directed to your dashboard.

The dashboard displays your linked organisations, select the blue export buttons for each organisation to queue your backups. Your completed backups are located by clicking on the blue button "View Your Backups" Your next export is scheduled to run in 7 days time. Xportmydata is literally "set & forget", how easy is that!
Once I have signed up with Xportmydata, how long will it take for the first backup?
Why can I see the backup but can't download it?
You will need to upgrade from the "7-Day Trial" to the Solo, Plus or Pro plan.
How do I download an offline copy of all my data held in Xero?
In Xportmydata, click on the blue "View Your Backups" button from within the dashboard. Simply click Download next to your backup. Once downloaded you have an option to delete the backup from our servers. Please ensure you store your downloaded backups in a secure location.
Is there a minimum signup period?
Xportmydata plans are monthly plans, with a minimum signup of 12 months.
Will my backups be available if I leave Xero?
Yes, your backups will be available for a period of 12 months, providing you have a current Xportmydata subscription. A "non Xero" login will be required, available from us on request.
I have sold my business. How do I back up and download my Xero financials data?
With Xportmydata you can sign-up for a one time back up and download all your Xero financials – data, files and (NZ) payroll.
I am an accountant or bookkeeper and have more than 10 clients. Can I schedule backups for these?
Yes, with an Enterprise subscription you can have as many entities as you need. Contact us for more details.
Why does my backup say it is "pending"?
Your backup has been scheduled and will export to Xportmydata servers usually within 24 hours. You may receive an email from us to re link your Xero organsiation to Xportmydata.
How do I get my backup to OneDrive, Dropbox, Google Drive or Box?
Simply download your backup to your local device, then save the backup to your cloud synced folders.
How do I cancel my subscription?
Please note, your intial subscription is for a minimum of 12 months. After this time, contact us to cancel your subscription.
Tutorials
An Introduction
Watch the following video for help on how to get started and set up your backups